Wednesday, November 24, 2010
Avon Outlet Spectacular Savings
SAVE 60% - 70% WHILE SUPPLIES LAST
Here is a sample of some of the savings...
Makeup
Color Trend Mini Lip Liners
Available in Natural only. Glide-on color won't tug or pull. Each, .042 oz. net wt.
regular brochure price
$1.29
Customer Price
$.59, savings of 54%
Item # 516-671
Skincare
ANEW CLINICAL Plump & Smooth Lip System
The at-home answer to lip injections. Results not comparable to professional procedures. Fuller lips. Youthful definition. Instant results. This 2-part treatment that works together, leaving lips more youthful-looking. Apply twice daily. Each, .1 fl. oz.; .2 total fl. oz. As seen on TV.
regular brochure price
$25.00
Customer Price
$7.99, savings of 68%
Item # 918-165
Bath & Body
Apple Spice Hand and Body Lotion
Apple Spice for Fall! Moisturizes skin in the colder months with vitamin E to help maintain skin's natural moisture. 8.4 fl. oz.
regular brochure price
$6.00
Customer Price
$1.99, savings of 66%
Item # 446-182
Haircare
ADVANCE TECHNIQUES Grey Root Touch-up in Light Brown
Available in Light Brown only.
No-mess precision applicator targets greys at the root. Easy to use. Color won't flake or rub off. Peroxide-free color lasts until your next shampoo. Can be used with other styling products. .25 fl. oz.
regular brochure price
$6.00
Customer Price
$3.99, savings of 33%
Item # 549-998
Fragrance
BOND GIRL 007™ FOREVER™ Eau de Parfum Purse Spray
The sexy sequel that eternalizes the essence of Bond Girls. A sultry cocktail of sleek citrus fruits, sexy florals and smoky woods. All the sexiness in a smart, go-anywhere spritz. .5 fl. oz. 007™ and related James Bond Trademarks © 1962-2009 Danjaq and United Artists. All Rights Reserved. 007™ and related James Bond Trademarks are trademarks of Danjaq licensed by EON.
regular brochure price
$15.00
Customer Price
$5.99, savings of 60%
Item # 236-265
Fashion
Breast Cancer Crusade Slipper
Breast Health Resource Guide FREE with purchase. Soft plush slipper with fluffy lining. Pink ribbon motif with embroidered and rhinestone detail. 100% of the net profits ($4.64) will be donated to the Avon Breast Cancer Crusade.
regular brochure price
$14.00
Customer Price
$8.00, savings of 42%
Size Small Item # 465-290
Size Medium Item # 465-305
Size Large Item # 465-310
Gifts
Inspirational Bible Cover
Exclusively at Avon. Fabric with "Believe" cross design. 11 1/4" H x 9" W. Fits a standard 9 1/2" H x 6 1/2" W Bible.
regular brochure price
$9.99
Customer Price
$5.99, savings of 40%
Item # 978-279
Children
Snowman Pajama Set
Available in size 7/8 only. 2-piece set. Appliquè snowman on top. Flannel bottoms. Machine wash. Polyester. Imported.
regular brochure price
$16.99
Customer Price
$12.99, savings of 23%
Item # 271-258
Jewelry
Heart Necklace Made with CRYSTALLIZED™ - Swarovski Elements
Heart-shaped Swarovski crystal element on 17" silvertone chain with 3" extender.
regular brochure price
$19.99
Customer Price
$5.99, savings of 70%
Clear - Item # 565-045
Red - Item # 564-914
FREE SHIPPING FOR DIRECT DELIVERY ON ORDERS OVER $30: Coupon Code RFSC25
Contact me
to place an order.

Avon Independent Sales Representative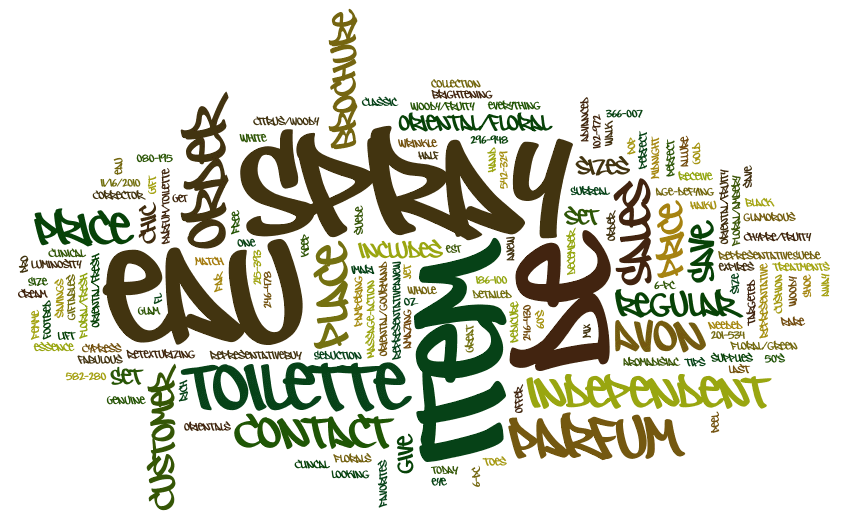 Shop at my online Avon store
for all your needs to look beautiful and empowered as a woman. Check my blog daily for all the new specials and deals.

About Me
Karen Ivey Herndon, Avon Representative

Macon, GA, United States
Your Avon Independent Sales Representative serving in the Macon/Bibb County/Middle Georgia area. I am a 49 year old mom of an 8 year old special needs Princess in Training and a 24 year old Handsome Prince. I am newly married to the love of my life, a 61 year old retired Marine and an RN. I became an AVON representative because I love the products and want to share them with others. The line of products has grown and every campaign there is something new to look forward to. Come and experience the look of AVON.
View my complete profile

Blog Archive
AVON News Daily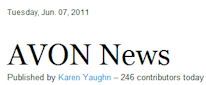 Read the "AVON News" Daily Published by paper.li

Recommend Me

Blog Directory

Blog Top Sites

Copyright 2011 Karen Yaughn. Powered by
Blogger
.